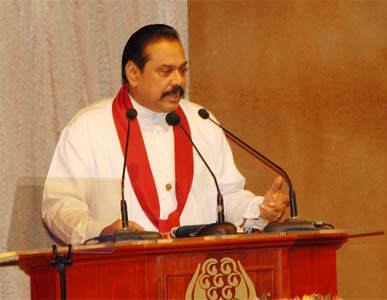 May every lamp lit today lead to stronger unity among all our peoples'
Hindus around the world celebrate Maha Shivarathri today by fasting, nightlong vigils at kovils and making offerings to Lord Shiva. They also light lamps and sing hymns in praise of Lord Shiva.
These devotions are aimed at dispelling ignorance and search for knowledge, overcoming the evil tendencies of lust, anger, greed infatuation, jealousy and hatred, said President Mahinda Rajapaksa in his Maha Shivarathri day message.
He said:
The Maha Shiva Rathri, observed in honour of Lord Shiva, marks the day he is believed to have married Parvati and also performed the dance of primordial creation and preservation.
The day also searches, for peace and harmony both in the lives of Hindus and in society. Hinduism, one of the great religions of the world, teaches man the virtues of piety, unity and harmony. Being true to their religion, Hindus in our country have for ages lived in harmony with followers of other religions, and continue to do so.
This year, Maha Shiva Rathri is very special to all Hindus in Sri Lanka, as they finally see all of their brethren freed from the clutches of terror, which threatened their lives for many years. Now, Hindus of the entire country are able to celebrate this festival free of fear or intimidation, in brotherhood and amity.
May every lamp they light on this day enrich them spiritually and every prayer offered lead to better understanding and stronger unity among all our peoples.
I wish all Sri Lankan Hindus blessings on Maha Shiva Rathri and may their prayers and expectations for a better tomorrow be fulfilled.
Posted on Sunday, March 14, 2010 @ 18:29:38 JST by
admin